Our boy-leg swimming costumes have no uncomfortable centre-seam and are fully self-lined from heavy fabric, for all-over figure control.
Neckline
A subtle V-neck, bagged out for an elegant, seamless appearance.
Leg Line
We minimise gaping at the rear (a standard problem with boy-legs) by running tensioned rubber through the rear leg seam, then loosening the tension through the front leg for your comfort. Our boy-leg is slightly shorter than most, to do away with the need for any centre-back seam.
Features
The leg line flatters any figure and is utterly modest.
The elegant neckline is enhanced by the concealment of rubber, sandwiched between two equal weight layers of fabric.
It is fully self-lined for the ultimate in figure control.
Side darts have been added to allow for the bust and let the fabric do its thing with regards to support.
O-rings and 8-sliders are rack plated and moulded, exclusively for Pride, to double as a decorative feature.
Constitution
For the outer self fabric, as well as the lining, we use 190gsm Vita from Carvico in Milan. It is 78% Recycled Nylon and 22% Xtra Life Lycra. (See technical data from the Australian importer).

All threads are UV and chlorine resistant polyester.

For elasticity and endurance, 0.63mm thick and 8mm

wide treated latex has been used throughout, i.e., the straps, across the neck, around the legs and across the back seam.
All metal hardware is moulded exclusively for Pride. Electrostatic rack plating contains no heavy metals, for example cadmium, chromium, copper, mercury, nickel or lead.
Bespoke Fitting
Because it will be made to order, your purchase will qualify for Pride's bespoke fitting service. Simply provide us with your bust, waist, hip and trunk measurements (instructions here) using the "remarks" box you will see when placing your order. For no additional cost, we will ensure your swimsuit fits you precisely, for example by lengthening the trunk or adjusting the bust or hip size. We will let you know in advance if custom making will exclude "change of mind" as a reason for claiming an exchange or refund.
Credits
Each piece hand cut and sewn in Newcastle East in Australia.
Design and prototyping by Steven Fleming
About This Cut
Dolly Oakley of Wallsend, NSW, had 4 children and 10 grandchildren. One of those grandchildren now tailors luxury swimwear.
Ma didn't live to see this particular venture of mine, but would have bragged about it non-stop; she was indiscriminate in her praise for all our endeavours, no matter how grand or how trifling.
If she were alive, I know Ma would grin ear-to-ear at some of Pride's skimpier costumes. "That's what the young ones are wearing," she'd say. This style, Ma, with its modest leg line, and pretty V-neck, is in honour of you. Thanks for the love that you showed us!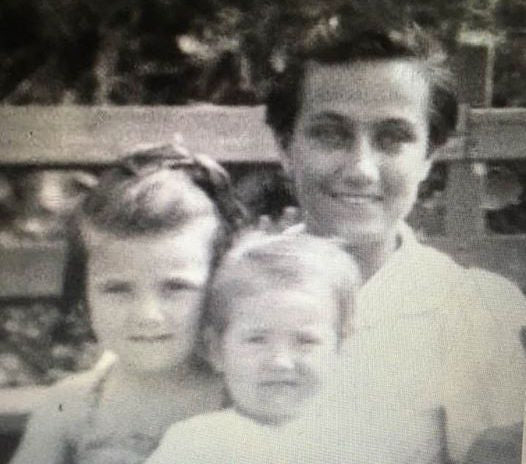 Ma with my mum and my aunty, when she was a "young one" herself.