Environmental awareness and a sense of civic duty, is leading more of us to take our vacations at home. Who, though, will celebrate our wise choices? Social media and advertising seem rigged to bring attention to those burning fuel, and for what? The waters they fly to are often no bluer than any we swim in at home!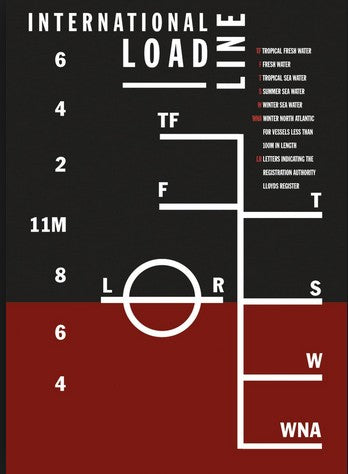 Such is the thinking behind our Plimsoll Line swimsuit, inspired by the colours of freighters. We know shipping itself could be greener, but the decision to vacation in your port city, is one of the greenest you could possibly make.
Think of it as a happy coincidence that red oxide, matt black and pure white combine in such stunning fashion when applied to the making of swimwear.
Transparency
This piece is made with the same white fabric for the lining as we use on the outside, so, depending on your colouring, it may look translucent when wet. Care instructions (for keeping it white!) can be found on our FAQs page.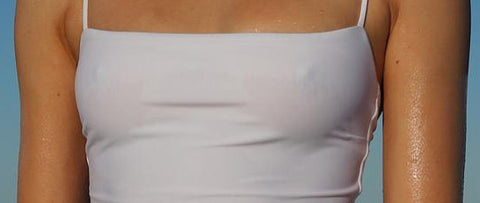 Neckline
"Maillot" simply means swimsuit in French. We use the word to differentiate the swimming costumes we make with low and square necklines, from those with V-necks or sports necks, etc.. Our "maillot neckline" is especially sophisticated, accentuating the bust and drawing the eye to the shoulders.
Leg Line
Our regular leg line strikes a balance between modesty and a desire to visually lengthen the leg with a leg seam approaching the hip. It is an inch higher than our full bottom cut, and an inch lower than our high leg line.
Features
The colour banding is not printed, but made by sewing individual panels and securing each seam by cover-stitching.
Side darts have been added to allow for the bust and to provide a slight lift.
O-rings and 8-sliders are rack plated and moulded for Pride so they double as a decorative feature.
In the eyes of the viewer, the waist appears slimmer and the bust slightly fuller, due to the banding and colour arrangement.
To ensure the seams remain hidden, the lining to the front panel has been secured to the rubber across the full width of the neckline and through the leg seams to the crotch. This makes the crotch especially comfortable too!
Constitution
For fabric we use Vita from Carvico in Milan. It is 78% Recycled Nylon and 22% Xtra Life Lycra. (See technical data from the Australian importer).

Red and white Lycra is 190gsm. An extra heavy fabric weight of 225gsm is used for the black waist band.

The swimsuit is fully lined, front and back, using the same 190gsm white Nylon Lycra used for the

outer chest piece.
All threads are UV and chlorine resistant polyester.
For elasticity and endurance, 0.63mm thick treated latex has been used in the following widths:8mm across the neck , back and buttocks; and 6mm across the front leg seams.
The 8mm shoulder straps are elasticated with 0.63mm treated elastic for a snug grip in the surf.
All metal hardware is moulded exclusively for Pride. Electrostatic rack plating contains no heavy metals, for example cadmium, chromium, copper, mercury, nickel or lead.
Bespoke Fitting
Because it will be made to order, your purchase will qualify for Pride's bespoke fitting service. Simply provide us with your bust, waist, hip and trunk measurements (instructions here) using the "remarks" box you will see when placing your order. For no additional cost, we will ensure your swimsuit fits you precisely, for example by lengthening the trunk or adjusting the bust or hip size. We will let you know in advance if custom making will exclude "change of mind" as a reason for claiming an exchange or refund.
Credits
Each piece individually cut and sewn in Newcastle East in Australia.
Design by Steven Fleming