Since Florentine architects, like Brunelleschi and Michelangelo, started using the cheapest available grey stone in most significant work, architects have known the power of grey. It doesn't set out to bedazzle. It invites calm observation of sculptural forms. "I could never wear white," shy women will tell you. What they mean is, they would never wear grey!
Travel sketch of Michelangelo's Laurentian Library by Steven Fleming: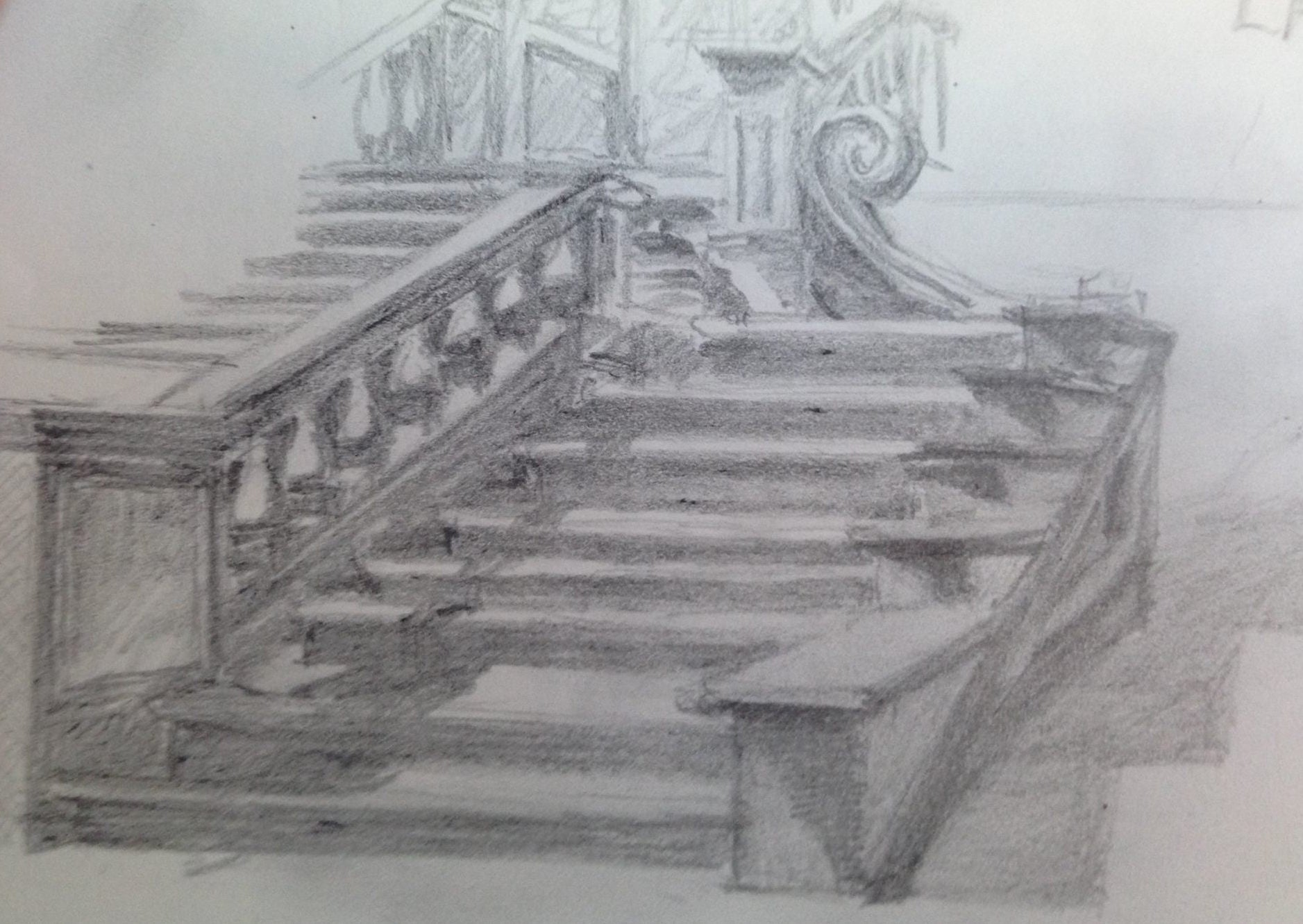 The top features:
a fabric-only option, plus the option of soft neoprene inserts. Choose "Bralette (only)" for our regular, unlined version; it dries faster and has a more natural allure. Choose "Bralette with lining (only)" if modesty is your concern. To prevent the ingress of sand,

optional

lining pads

are sewn in, i.e., they can't be removed. They are made from thin (2mm) moulded neoprene.
an adjustable under bust band offering plus-or-minus 4cm beyond the recommended size in each range—wear it loose as a bra or when sunbathing then cinch it up tight for high diving or swimming in surf.
a Pride logo clasp that closes with an audible snap, thanks to the addition of washers.
bagged out seams for maximum comfort and to eliminate the ingress of sand.
fabric lining as thick as the fabric on the outside.
The bind waist (skimpy) bottoms feature:
a Pride logo clasp on each hip for the convenience of changing while wearing your trousers.
tiny washers in the clasps to ensure they snap shut.
fully secured lining throughout the seamless front panel, for comfort and to ensure the concealed seams remain hidden.
self-lining, front and back, to even anatomical contours and prohibit the ingress of sand
added rubber tension in the rear seams to resist slippage, for example when surfing.
a cut that strikes a balance between decorum, tanning and feeling free in the sun and the water.
The high waisted briefs feature
Full bottom coverage
Self-lining for compression/figure control
bagged out seams with fully secured lining through the front leg and waist for comfort and a minimalist finish,
added rubber tension to the rear seams to resist slippage, for example when surfing.
Materials
Self fabric and lining in matching 190gsm Vita from Carvico in Milan. It is 78% Recycled Nylon and 22% Xtra Life Lycra. (See technical data from the Australian importer).

All threads are UV and chlorine resistant polyester.

For elasticity and endurance, 0.63mm treated latex is ran through all straps and opening seams.
All metal hardware is moulded exclusively for Pride. Electrostatic rack plating contains no heavy metals,

for example cadmium, chromium, copper, mercury, nickel or

lead.
Credits
Each piece individually cut and sewn in Newcastle East in Australia.
Design and prototyping by Steven Fleming